Silverton Colorado
At 9,318 feet in elevation, the Town of Silverton is completely surrounded by stunning 13,000 - 14,000' peaks. More peaks this size in fact than anywhere else in America. The Victorian charm of the old homes and miners cabins are second to none. Silverton is a town that has its own color and character. Most of the buildings and the mining-laden hillsides reflect a simpler day as does the Silverton lifestyle. Silverton offers a style of living where there is more time for family and community. The year round population of 500 is supported by the 250,000 visitors who come here for the peace and tranquility each year. Once summer is over and most of the visitors have gone back home the town quiets down to a slow winter lifestyle locals have come to love.
Located in the San Juan National Forest, over 85% of the surrounding land is national forest. The Weminuche Wilderness, and thousands of acres of public land offer recreation and solitude for everyone.
Great fishing, hunting, camping, hiking, mountain biking, horseback riding, river rafting and many other activities are just some of the things to do here. The Denver & Silverton Railroad is another popular tourist attraction.
Summers are great weather with the occasional shower and the July 4th celebration is one of the busiest times as tourists from all over come to see the fireworks show Silverton is famous for (so book your room early).
Where to Stay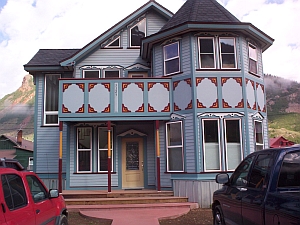 Silverton Property Management
We stayed at the Schmaltz house pictured above and would highly recommend it for your vacation.
This home is brand new and is very nice with a wonderful view of Kendall Mountain and it is the closest home to where the train lets out so you can sit on the front deck and wave at the visitors coming into town.
Contact Nicole Barr for leasing info on this and other fine homes:
Office:970.387.0133
Cell: 970.759.0943
Where to go
The Scarlet House internet Cafe
Located on historic Blair street right across from where the train lets out, is where you will find this great place. Opened in 2005 the Scarlet House has 3 high speed computers available and serves some of the best smoothies around. Not to mention ice cream, coffee,danishes, and many other items. Stop by and see Mike. He is a super host.
Click here for a complete dining guide in Silverton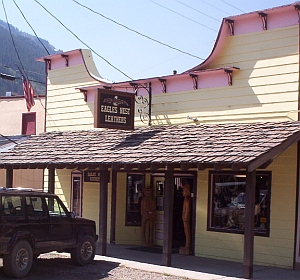 The Eagles Nest
The Eagles Nest is a must stop for anyone looking for some great gifts and one of a kind items. Located right across from the bank, just off the center of town, you will find everything from cowboy hats, belt buckles, pictures, knives, leather items and way too many items to mention here. You can reach them at the address & phone number below.
The Eagles Nest
1152 Greene Street, Silverton CO.
970-387-0247
Other fun stuff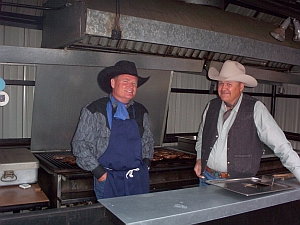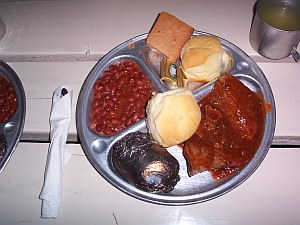 Bar D Chuckwagon
Dinner & Show
If you are looking for a great night out you will want to check out the Bar D Chuckwagon dinner and show down near Durango. The singing cowboys will treat you to a fun night that all will enjoy. Lots of shops and great food too. AAAA++++ Click on the pictures above to visit their website.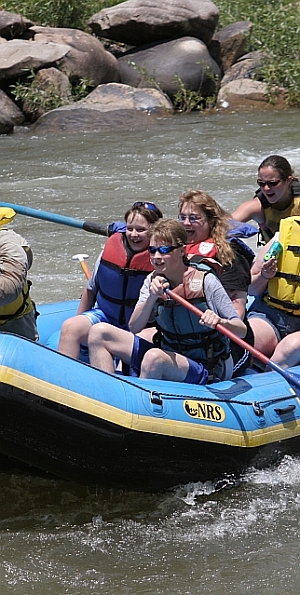 Mountain Waters Rafting
As you can easily see by the happy faces above, Mountain Waters Rafting will take you on a great trip down the Animas River. They have trips for all ages and skill levels and the guides are very professional. A big thanks to guide Tighe Kayser for a great trip. Give them a call at:
1-800-585-8243
or click on the picture above to go right to their web site.
Old 100 Mine Tour
Looking for the complete mountain experience ? Then we suggest taking the Old 100 Mine Tour. Located about 4 miles north of town (and buried way down deep inside) you can ride the Mine Tram 1/3 mile into the heart of Galena Mountain and experience underground fun and even pan for gold that you can keep. Guided tours daily.
Check out their web site for details.